Three Dimensional Flame Pea Flowers
by Embroiderers Guild of Western Australia
Start Date
29-Jun-2024 9:30 am
End Date
30-Jun-2024 3:30 pm
Timezone
(UTC+08:00) Australia/Perth
Registrations Close
10 June 2024
11:00 PM
Flame Pea Flowers
Members $120.00
Non-Members $240.00
Membership attracts a 50% discount on all workshops (join here and save!)
This Flame Pea shrub grows in the South West of Australia. Joan has recreated this beautiful Western Australian plant in stitch. A perfect way to showcase these lovely flowers. The stitched floral spray features buds, leaves and flowers and can be displayed well in a small vase or specimen tube.
Flame Pea
The genus Chorizema contains approximately eighteen species and all but one are endemic to Western Australia. The generic name has been said to be derived from the Greek choros (dance) and zema (a drinking vessel), given by the botanist Labillardiere in 1792 when the plant was discovered near a waterhole by a thirsty expedition party.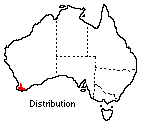 Chorizema cordatum, commonly known as the Heart-leaf Flame Pea, occurs naturally in the forests of south-western Australia on gravelly or loamy soils. When in flower this small scrambling shrub is conspicuous with its loose racemes of orange-red or yellow pea flowers. The plant flowers in spring; the blooms are in racemes up to 12 cm long and are borne either terminally or in leaf axils
https://www.anbg.gov.au/gnp/gnp11/chorizema-cordatum.html
Tutor: Joan Sibenaler
Joan writes:
"Joining the EGWA in 2009 I was introduced to the magical world of needle art. In recent years I have taken myself down the rabbit warren of 3D and Raised Embroidery techniques. My hope is for members of my workshop to go away with enhanced skills and stitching confidence. My project is a starting point only."
Joan is a very experienced embroidery teacher with a wealth of knowledge. This will be an enjoyable learning experience for all participants.
Registrations open 1st November 2023
Dates:
Saturday 29th June 2024
Sunday 30th June 2024
Time: 9.30am - 3.30pm

Skill Level: Confident Embroiderers
Class Fees:
EGWA Member - $120.00
Non-Member - $240.00
Membership attracts a 50% discount on all workshops (join here and save!)
What to bring
See download
Kit cost: $30.00 (does NOT include the display stand)
IMPORTANT: PLEASE READ PRIOR TO TICKET PURCHASE
Enrolment & Cancellation Policy
If you wish to use a Guild voucher, pay by direct deposit, or a combination of the two, please click on this link - * Alternate Payment Methods - Workshops
---
Download More Information
Event Location
Guild House
565 Canning Highway
Alfred Cove WA
---
Sunday 19th May 2024 - Sunday 17th Nov 2024